Welcome to Electrical Solutions: Greenville electrician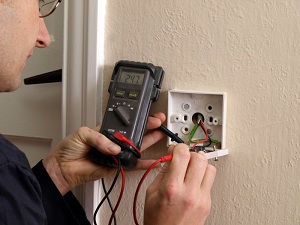 At Electrical Solutions, our Greenville electricians offer flat rate pricing to our clients, so that they know the complete cost of any electrical project before it starts. The price will not change halfway through your project for what you were quoted for.
Our electricians offer a full line of any electrical services you may need for your home. We specialize in lighting layout, lighting design and lighting installation. We can transform a dark and shadowed space into something that is more appeasing and functional. We offer this lighting design service free of charge for your initial consultation.
Electrical Solutions - Greenville Electrician
Electrical Solutions is a full service Greenville electrical contracting company offering a complete line of electrical services. We have more than 29 years of experience providing honest, neat, professional and courteous service to our residential and commercial customers. The expert electricians at Electrical Solutions have been dedicated to reliable, on time, affordable electrical services with a 100% customer satisfaction guarantee.
Our team of professional, courteous employees is committed to providing you with the best customer service and electrical repair or installation services possible. As Greenville Electricians, we have the real world experience and cutting edge industry know-how to safely yet quickly remedy your residential or commercial electric needs.
Greenville Landscape Lighting
Outdoor or landscaped lighting provides an increase in safety, security, show cases the beautiful landscaped yard at night and provides ambiance. Landscape lighting allows you to enjoy your beautiful landscape and gardens at nighttime.
Enhance your garden or yard at night with outdoor landscape lighting. Landscape Lighting provides an ambient effect to trees, shrubs and flowers. New Castle County landscape lighting also has a practical side. It is a great way to mark pathways or accent garden areas. Get the full use out of your garden, yard and patio areas by adding decorative landscape lighting to your outdoor spaces.
Greenville electrician
Greenville electrical contractor
Greenville lighting installation
Greenville surge protection
Greenville electrical repairs
Greenville lighting repair
Greenville outdoor lighting
Greenville electrical service
Greenville electrical wiring
Greenville rewiring
Greenville landscape lighting
Hiring a Greenville Electrician
Just what do you need a professional Greenville electrician for? Well, most people think that you only need an electrician when you are constructing a new home, but this is simply not the case. In fact, if you have anything in your home that has to do with electricity and it needs repairs, it is far better to call in a professional Greenville electrician to fix it for you. If you make a mistake while trying to fix your own wiring or electrical appliances, such an error can be quite costly to you - both in the sense of taking a blow to your wallet and potentially suffering from injury. Thus, when it comes time for Greenville electrical repairs or panel upgrades and electrical wiring, it is time to call a reliable Greenville electrician.
Electricians go to school and learn everything they need to so that your wiring is correctly installed in your home. Newer homes must undergo inspection, as do those that have had recent additions. If the wiring is not correctly placed, you can run into increased financial costs to fix errors. This is where relying on a professional Greenville electrician to do the work for you comes in handy. If you have a professional that knows all the ins and outs of installing Greenville electrical wire and breaker boxes, you are far better off then if you attempt such things on your own.
We Provide the Following Services Electrical Services in Greenville, DE
---
If you are looking for a Greenville electrician then please call 302-994-6252 or complete our online request form.