Knob and Tube Wiring in New Castle County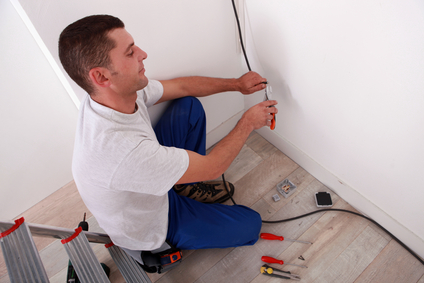 Knob and tube wiring is very dangerous and should be replaced. The original wiring was designed to carry less electrical current than today's standard wiring. Today's air conditioners, dishwashers, and high current devices pull too much electricity for knob and tube wiring and causes old wires to get hot thus become a fire hazard.
Knob and Tube wiring are ceramic tubes and go through the studs with the wire through them. The ceramic knobs hold the wire secure and away from the studs.
You should consider rewiring your home if you have Knob and Tube Wiring throughout the house. If you have ungrounded two prong copper wiring throughout the house, you should consider having your house rewired so you can have the added safety of a ground conductor in your home's electrical wiring system.
If you have knob and tube wiring in your home, consider having your electrical wiring system updated. Call our expert New Castle County knob and tube wiring experts today for a FREE estimate 626-888-3060.
Our Knob and Tube Wiring Provides the Following Services
Knob and Tube Wiring
Replacing Knob and Tube Wiring
Knob and Tube Wiring Installation
Knob and Tube Wiring Repair

Old Home Wiring
Home Wiring
Home Rewiring
Electrical Wiring

Electrical Repair
Electrical Upgrades
Panel Upgrades
Surge Protection
We Provide Knob and Tube Wiring in the Following Towns
Bear, DE | Pike Creek, DE | Claymont, DE | Stanton, DE | Greenville, DE | Hockessin, DE | New Castle, DE | Newark, DE | Montchanin, DE | Wilmington, DE
Latest Electrical Articles
If you are looking for aluminum wiring replacement in New Castle County then please call 302-994-6252 or complete our online request form.