New Castle County Home Aluminum Wiring Replacement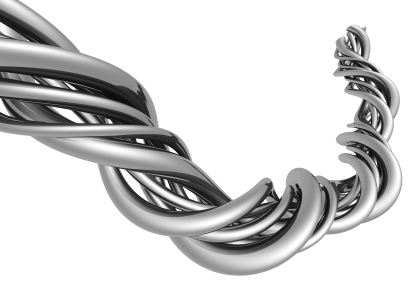 Aluminum wiring can be a fire hazard wherever the wire is spliced or makes a connection with an outlet, switch, circuit breaker or other component of an electrical system. Another reason aluminum wiring is such a fire hazard is because it shrinks and expands depending on the temperature. These changes to the aluminum wires can result in overheating, sparks and fires. Due to such safety risks, only copper wiring has been used for electrical systems since the late 1970s.
Older New Castle County homes that were built between the 1960's and early 1970's were wired with aluminum wire. After Mid-1970's, copper wiring is the only wire used in homes, since aluminum wiring was found to pose a fire hazard.
Our New Castle County electricians can upgrade your home's safety by replacing the aluminum wiring with copper wiring. At Electrical Solutions, our goals is to keep your home safe, provide quality work, excellent customer service and finish your project on time and within budget. Call today for a free quote.
Our Aluminum Wiring Replacement Provides the Following Services
Aluminum Wiring Replacement
Aluminum Wiring
Aluminum Electrical Wire
Anodized Aluminum Wire

Aluminum Wiring Repair
Aluminum Electrical Wiring
Aluminum House Wiring
Copper Wiring

Electrical Rewiring
Home Rewiring
Electrical Upgrades
Electrical Troubleshooting
We Provide Aluminum Wiring Replacement in the Following Towns
Bear, DE | Pike Creek, DE | Claymont, DE | Stanton, DE | Greenville, DE | Hockessin, DE | New Castle, DE | Newark, DE | Montchanin, DE | Wilmington, DE
nothing
Latest Electrical Articles
If you are looking for aluminum wiring replacement in New Castle County then please call 302-994-6252 or complete our online request form.