GFCI Outlet Repairs in New Castle County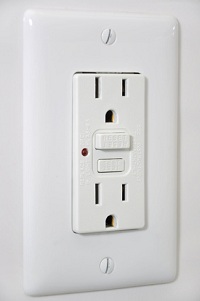 GFCI stands for ground fault circuit interrupter. When a variance is detected in the electrical current, the GFCI outlet or braker will automatically shut off power to the protected part of the circuit.
Generally GFCI outlets are required in walls and rooms where moisture or dampness can be. Typical places would include bathroom plugs, kitchen countertops, outside plugs, pool pumps, jacuzzis, and other wet and damp locations.
If you have noticed the your GFCI outlet is not working, you try pushing the reset button on the outlet. If this does not resolved the issue, call our New Castle County GFCI outlet repair experts to check the outlet. Our electricians can inspect, repair and install GFCI outlets and GFCI breakers throughout your home.
Our GFCI Outlet Repair Provides the Following Services
GFI Outlet Repair
GFI Receptacle Repair
Ground Fault Protection
Electrical Fire Protection

Electrical Installation
Erratic Current Protection
Power Disconnection Circuits
Electric Shock Protection

Ground-Fault Circuit Interrupters
Power Fault Circuit Interrupters
Ground Fault Interrupters
GFI Outlets Installation
We Provide GFCI Outlet Repairs in the Following Towns
Bear, DE | Pike Creek, DE | Claymont, DE | Stanton, DE | Greenville, DE | Hockessin, DE | New Castle, DE | Newark, DE | Montchanin, DE | Wilmington, DE
Latest Electrical Articles
If you are looking for aluminum wiring replacement in New Castle County then please call 302-994-6252 or complete our online request form.