3 Benefits Of Hiring A Licensed Electrician For Your New Commercial Construction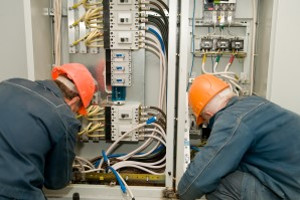 If you're working on new commercial construction in New Castle County, there are a lot of different people you've got to hire– builders, plumbing and HVAC specialists, and last but certainly not least, an electrician. Especially if you have little to no experience with electrical systems, having a professional electrician on your side during new commercial construction is vital. Your electrical system is the one thing that your new build will always rely on to function, and if you don't have someone who knows what they're doing on-site to help, you might run into some issues. Keep reading this article from Electrical Solutions to learn more about the benefits of hiring a licensed electrician for your new commercial construction.
1. Safety
Your commercial building's electrical system is not something to mess around with. There are set standards for electrical work, especially in commercial builds, and only a professional electrician knows how to meet them. Anyone without a background in electrical work poses a huge risk to themselves and others for bodily injury, electrocution, and even death. The pros at Electrical Solutions have years of experience working on new commercial construction and will be able to help you with your electrical needs in a safe and professional manner. We are also insured, meaning no matter what happens on-site, everyone is protected.
2. High-Quality Work & Results
A licensed electrician goes through many different kinds of training before becoming certified. Along with years of experience and access to the right tools of the trade, you can be confident that you'll only get high-quality work from a professional electrician. Most electrical companies also have strict standards for the electricians they hire. Therefore, you'll likely never work with someone who doesn't meet those standards (or exceed them).
Mistakes during your new build? Don't expect them! Unanswered questions? No way. A licensed electrician always works carefully and tediously on each job they accept, and they will always be able to answer any questions you may have about the electrical system they're installing in your structure.
3. Save You Money & Time
A common misconception of DIY projects is that you'll be saving money in the long run. This couldn't be farther from the truth, especially when it comes to your commercial new construction. If you get hurt trying to work on the electrical system in your commercial space and you get hurt, you'll be spending way more on hospital bills than you would have on the help of a pro. Shoddy electrical work can also lead to your appliances shorting out, meaning you'll need to spend money on a replacement if your original is ruined. Hiring a pro electrician will prevent all of these problems, getting you top-notch work and saving you cash.
If you don't know how to work on a certain electrical issue in your commercial space, you'll probably end up wasting a lot of time trying to figure it out. YouTube videos and DIY guides can only get you so far! If you have limited knowledge on the project, you could end up wasting even more money alongside time buying expensive parts and equipment you may not have needed. Trusting an expert electrician for your commercial construction will ensure time efficiency.
If you have questions or are looking for a New Castle County electrician for Commercial Service, call Electrical Solutions at 302-994-6252 or complete our online request form.
More Tips on Electrical Wiring