Aluminum Wire Repair Pike Creek, DE
We recently had a service call where the client explained to us that there were multiple switches, receptacles and lights not working.
After troubleshooting we found aluminum wiring in the attic needed attention. In the first "Before" picture you can see where we circled the wire nut that was burning. It was still actively giving off heat while we were there. The wire nut that we have circled should be orange. What the picture is showing is the wire nut melting. In the second "Before" picture we have circled extension cords. At some point the extension cords were used instead of standard house wiring and then connected to the aluminum wire. The connection point of the extension cords to the aluminum is what caused the melting. It was done incorrectly. It was a potential fire hazard too.
In the after pictures we installed new boxes and wiring and disconnected all of the extension cords in the attic utilizing proper connectors for splicing aluminum wire to copper wire.
---
Aluminum Wire Repair Project Gallery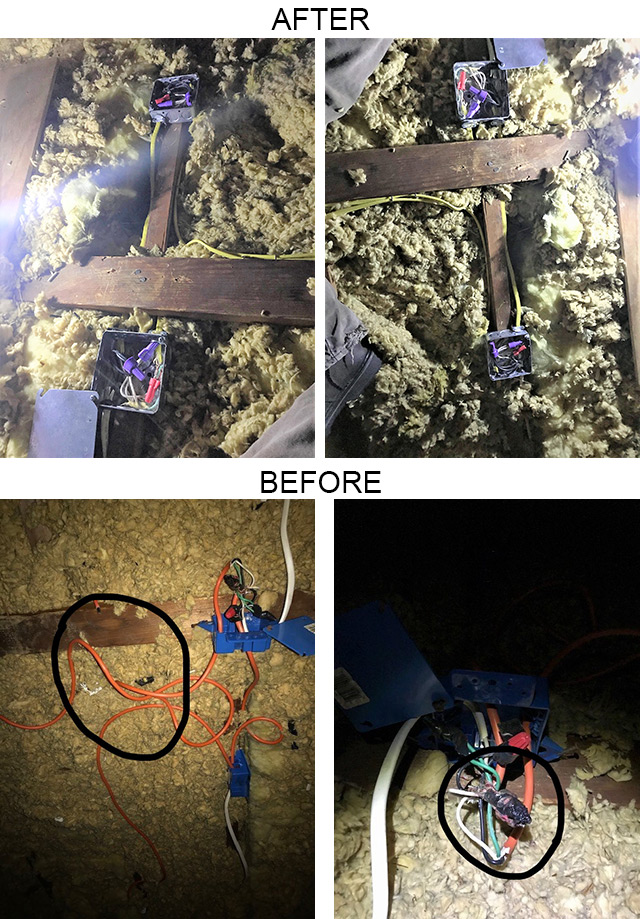 ---
Articles & Tips on Service Cable Installation
HIRING AN ELECTRICIAN FOR NEW CASTLE COUNTY ELECTRICAL REPAIRS AND SERVICES
For you to be able to ensure that you get the best possible job done in your home, you should limit your options among New Castle County electricians and electrical contractors that will be able to take the best possible care....Read More
ALUMINUM WIRING REPLACEMENT – WHAT YOU DON'T KNOW COULD HURT YOU!
It was a common practice in the 60's and part of the 70's to use aluminum wiring. During this period, copper prices were high and builders were seeking a more cost-effective alternative to use....Read More
---
If you're looking for a New Service Cable Installation in Wilmington, DE, please call 302-994-6252 or complete our online request form.